Hello and Happy New Year, Dear Readers! To begin the year 2019, let's briefly review 2018 to see which countries and national leaders rose in power and influence, and who declined. Let's start with the 5 biggest geopolitical winners of 2018: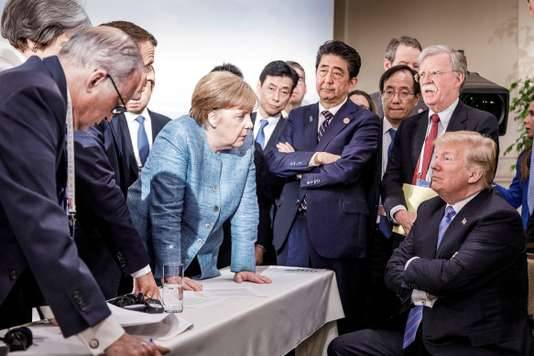 U.S. President Donald Trump: While his tax cuts have spawned great prosperity at home (3% annual economic growth and unemployment at barely 4%, a record low since the 1990s), Trump has continued to impose his will abroad. Whatever we may think of his decisions – good or bad – the fact is that he continues to impose his policies on partners and other parties that are left stunned, speechless, and unable to respond. He has abrogated the Paris Climate Protection Agreement, the nuclear deal with Iran, and threatened to withdraw the US from the INF Treaty. He has declared a tariff war against much of the world. And what has the world's reaction been ? Outside China, and Russia, nothing but powerless protests and meaningless declarations. Only China and Russia have had the courage and the power to resist the 800-pound gorrilla in the room, Donald Trump.
Russia and its President Vladimir Putin have made a remarkable comeback on the world stage – in Russia's usual, bombastic style. Buoyed by rising oil and gas prices, Russia announced advanced operational testing of several powerful strategic weapon types last year. These included a rail-mobile ICBM, a new nuclear-capable cruise missile, an underwater drone carrying a 100-megaton (!) nuclear bomb, and most importantly, the RS-28  Sarmat : an ICBM capable of striking the Continental US with up to 24 warheads AND doing so from the South, thus completely evading American early warning systems, which can only look towards the North. Also, as the Shanghai Cooperation Organisation's 2018 meeting has shown, Russia is anything but isolated on the world scene: 

The leaders of SCO member countries, notably India, Russia, and China, meeting in Qingdao in June 2018. These countries collectively represent about 40% of the world's population (whereas G7 only represents 10%). Photo source: Union populaire républicaine (www.upr.fr).

North Korea and its leader Kim Jong-un : While Donald Trump has forced him to stop his missile and nuclear tests and to pursue a policy of denuclearization, it remains to be seen whether Kim will actually make good on his promises. And by meeting one-on-one with Trump, Kim has finally gained the international stature he has sought.
Vietnam, Bangladesh, India, and Thailand : These countries are now the destination for low-cost off-shore manufacturing of simple products by companies seeking cheap labor. China no longer is (nor does it want to be) the world's sweatshop – it is transitioning towards a high-tech, high added value economy and its population wants to have ever-greater income and living standards.
Huge multinational corporations such as Google, Apple, Facebook, and Amazon: They continue to rake ever-increasing profits while stashing them offshore in tax heavens such as Panama or the UK/US Virgin Islands. The industrialized world, including the US and Europe, has so far been powerless to face these huge tax-evading multinationals to pay their fair share.
And here are the 5 biggest losers of last year's geopolitics:
Voices for common sense, reason, and sanity in the Trump Administration : their ranks include ex-Secretary of State Rex Tillerson, ex-National Security Advisor H. R. McMaster, and ex-Defense Secretary James Mattis. Trump has personally evicted them, one after another, and replaced them with yes-boys who are ideological hardliners like himself: Mike Pompeo and John Bolton. It remains to be seen whom Trump will nominate to succeed General Mattis, but the odds are against a common-sense candidate. In my opinion, these men have demeaned themselves by serving under Trump, and although they've been steadfastly loyal, Trump has unceremoniously kicked them all out.
The European Union and its unelected Commissars in Brussels: As usual, it has been impotent and unable to respond to major world events, Trump's offensives, or even to secure its own borders and maintain general order at home. It is being torn apart due to fundamental differences in views about what the EU should be, between the unelected commissars at the top on the one hand and, on the other hand, European peoples and governments who respond to their will.
France: This is my home country, so writing critically about it is hard for me, but I must do it nonetheless. Throughout the first six months of 2018, it was actually on the right track, with President Macron successfully pushing several toxic reforms through, notably scrapping the national rail operator's passenger service monopoly and reforming the universities – two formerly sacred cows in France. But then, for a reason known only to himself, Macron decided to become another Euro-socialist and to try solve the world's problems through classic European tax-and-spend policies, notably hiking the gasoline tax. The result? A violent protest movement (the Yellow Vests) that continues to ravage France to this day.
The UK: With each passing day, with more and more companies leaving (or announcing plans to leave) the UK, it is becoming clear that Brexit is a huge self-inflicted wound; the only 'Brexit uncertainty' is just how big it will be. While I'm Eurosceptic and have often been critical of the EU (as I should be), Brexit will not solve any problems; it will only weaken Britain as well as those of us inside the EU who seek to turn it into a decentralized community of sovereign nations. The prospect of a chaotic no-deal Brexit
All those seeking a cleaner, safer, more just and more orderly world based on widely-accepted rules: Unfortunately, these days, it's "every man for himself". It's the era of national egoisms and parochial thinking. Countries such as the US, Russia, the UK, and others seek only to pursue their own national interests at the expense of everyone else. This is foolish thinking, based on the premise that the cake is limited and everyone must carve out the biggest possible part for themselves, at the expense of everyone else.
This is why we have seen crucial agreements on climate change and Iran's nuclear program unravel, while on other pressing issues (notably tax avoidance by multinational corporations) the world's leaders have been totally unable to agree on anything.
What of the other 800-pound gorrilla in the room – China ?
Finally, we must ask ourselves what happened to the other superpower – China ?
On the one hand, China has suffered from the tariff war that the arrogant Trump Administration has imposed on the rest of the world. The Chinese economy's growth has slowed down (to just above 6% in 2018), as has inflation. If only a trade deal could be reached with Washington, the Chinese economy would probably keep growing at near-10% annual rates.
Also, China, like the US, is exposed to a credit bubble due to increasing state, provincial, corporate, and individual debts. This bubble could burst anytime.
On the other hand, China has made great strides in modernising its economy to become a high-tech industrial power. It is also clearly shifting away from an economic model based only on exports and savings to one based more on consumption. It no longer is, and no longer wants to be, the world's cheapest sweatshop.
Moreover, the Chinese military, the PLA, has received several new types of excellent weapons this year:
The Type 001A aircraft carrier – China's first indigenously-built ship of this type – began sea trials.
The PLA Navy was building six Type 055 destroyers (NATO considers them cruisers) simoultaneously. This type of vessel will have excellent anti-air defense AND anti-submarine warfare capabilities comparable with American Ticonderoga-class cruisers and Burke-class destroyers.
And most importantly, the J-20 Black Eagle stealth fighter was inducted into service in limited numbers. This aircraft has a level of stealthiness (low observability) to radar comparable to that of the F-22 Raptor and vastly superior to the limited-stealth, heavy, unmaneuverable F-35 turkey (not to mention the Eurocanards, the F-15, the F-16, and the F/A-18). This fighter, upon entering service with the PLA Air Force last year, basically rendered all other fighters on the planet (excluding the F-22 and the Sukhoi PAK FA) obsolete, as I warned several years ago.
The only American fighterplane capable of defeating the J-20 is the F-22 Raptor, or to be more precise, evolved and enhanced versions of this aircraft.
Therefore, for China, 2018 was "win some, lose some". It sure did take some hits along the way, and like every other country, it surely has its own problems. But in a long-term perspective, it is well on its way to eventually replacing the US as the world's top economic and military power.
And let's never forget that the Chinese people have a VERY long-term perspective, unlike Western societies and their leaders.